After COVID-19, people have been spending much of their time inside their cosy living places. They have been dining in, working from home, and even watching movies in their homes.
Since it is the new norm, why not add the essence to enjoy everything to its fullest? In this post, I'll share some tips for creating the perfect home theatre within your beautiful home.
Table of Contents
Creating the perfect home theatre

Dedicate a room
Set the furniture
Install the big screen
Get smart gears
Sound treatment
Setting the tone
Get your snacks

Things to avoid
Creating the Perfect Home Theatre
Dedicate a room
If you live in a single-family home, you may have several options for this entertainment room – a living room, basement, or a spare room on the first floor.
Basement tends to be the best option. It is usually a large big hall, separated from the main living area, and has an adequate privacy level.
And if you live in a condo and have fewer spare space, you could simply transform your living room into a mini theatre.
Set the furniture
Now that you have dedicated a room for the theatre, it's time to select the furniture.
The fundamental goal here is to have a comfortable seating arrangement, convenient for all viewers to watch the screen.
The ideal theatre room could have tiered seating. If not this, you could place bean bags in the first row and sofas in the second. You could also replace bean bags with inflating mattresses.
Remember to place every furniture at an optimal distance – not too far, not to close.
Install the big screen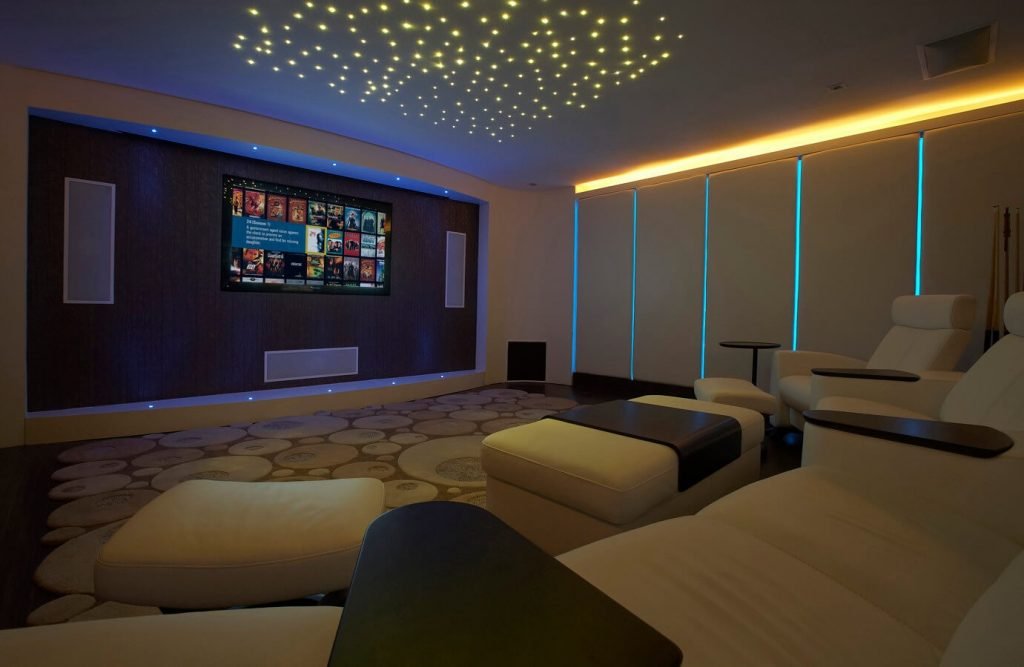 Which type of screen do you prefer – a smart TV or a projector? A projector is usually preferable to a home theatre screen – it gives a cinema-type feel. But since we have smart TVs, you may skip the idea to buy a home projector.
Once you have selected the screen type, you need to select the company and model offering the best resolutions. Choose the screen, keeping in mind that you wouldn't be replacing it for the next whole year.
Lastly, whichever screen you choose, don't forget to mount it on the wall – this is the way to add the true essence of having an in-home theatre and gives the perfect viewpoint.
Get smart gear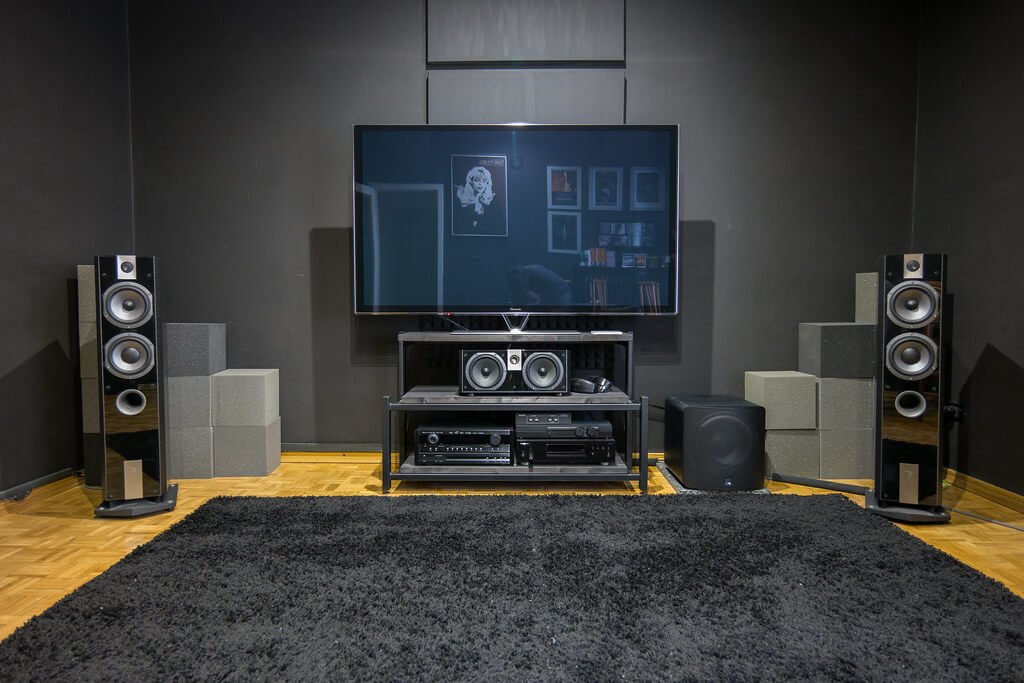 If you've the smart TV mounted on the wall, you're all set to go. Otherwise, you would be needing a streaming device; a Blu-Ray or DVD player, a receiver and a surround sound system.
Keep everything placed in order – the streaming devices near the screen close to an outlet and speakers placed optimally to have the best sound effects. While searching for the sound system, do thorough research. With smart tv, I would like to suggest you have a wireless keyboard and mouse because it is very time-consuming typing anything using tv remote this is not necessary if you are comfortable using a TV remote it's up to you.
Note: If you're streaming in HD (1080p) or Ultra HD (4k), a wired network connection is the best option.
Sound treatment
Much of the treatment is done when you dedicate a room (home basement is the best option to naturally treat the outside sound). Moreover, you could install an additional layer of drywall or sound-reducing wallboard on the walls. And install a solid door to further treat the sound Soundproofing is very important so that your neighbours don't get offended. It is highly recommended to avoid any disturbance for the people around you. It is Ethically important as well not to spread out the noise and some can file a complaint against you as well that he is getting offended by the noise
To further improve the sound, place the speakers by the seating arrangements. For a better sounding effect, you could read the in-depth information by Crutchfield.
Setting the tone
Again, a theatre room in the basement is perfect for managing natural light – basements are usually darker than living rooms. For rooms having an abundant source of natural light, you need to block out the source.
This task is relatively more straightforward. For example, installing dark and heavy curtains on the windows.
But you still need a light source; to walk in and out of the room. Here you could install pot lights or wall sconces with a suitable dimmer switch, giving you control over light levels.
Get your snacks
Take the home theatre to the next level – get a snack bar dedicated to the room. You could have a mini-fridge for your beverage, storage for chips or nuts, and a popcorn maker.
Things to avoid
It's exciting to have an in-house theatre where you could watch movies with friends or family and your better half. But it could be quite intimidating if you overdo the home theatre. To avoid some significant mistakes, read the below tips:
Don't think of overspending – technology is ever-evolving. The screen and sound systems come and go so frequently that if you spend beyond a specific limit, you may regret it later. So, buy the things you need, keeping in mind that you may have to replace some of them every six months or so.
Don't place bright furniture – for a theatre, the screen should be the only bright thing in the room. If you place bright-coloured furniture or other equipment in the room, you may not get the essence of the cinema.
Don't place old furniture – old furniture may not be comfortable for seating, and you may not enjoy the movie time to the fullest. If you don't want to spend too much on the furniture right away, bring down a spare mattress for the time till you have a suitable furniture budget.